Indigenous
With Mexican and aboriginal Tsilhqot'in ancestors, Lisa Charleyboy, raised in Abbotsford, has co-edited
#NotYourPrincess: Voices of Native American Women
(Annick Press 2014 / $14.95) with Mary Beth Leatherdale. This young adult anthology demonstrates how Indigenous women can break down stereotypes through essays, stories, music, poetry, and art. It later received the American Indian Youth Literature Award for Best Young Adult Book in 2018. It was preceded by
Dreaming in Indian which won the American Indian Youth Literature Award for Best Middle Grade Book Honor in 2016.
She is part Tsilhqoti'in (Raven clan) from the Alexis Creek Indian Band. Her mother was a missionary who came from the U.S. to the Nemiah Valley. "Her mission was not to fall in love," Charleyboy has recalled for
Walrus Talks
presentation, "but that is exactly what happened. She said once she saw my Dad riding bareback on a horse, she was done." Her father soon became a band chief but, having attended residential school as a boy, he committed suicide when Lisa was age four. Mother took her to live in southern B.C. in what she now refers to as  "Bible belt country." She was raised in Abbotsford with little contact with her Indigenous roots.
In February of 2010, she published an article in
Georgia Straight
about the Winter Olympics in Vancouver, criticizing a token tribute and Memorial March for Indigenous women.
In 2012, she wrote an article for
The Guardian
protesting the appropriation of Indigenous female identity for a No Doubt pop music video featuring singer Gwen Stefani. "Indigenous women have been exploited by colonizers for prostitution since the days of Christopher Columbus, and the impact of this history of sexual violence still rears its ugly head today. In the US, data indicates that Native American and Alaskan Native women are 2.5 times more likely to be raped or sexually assaulted than non-Native women, with 86% of the perpetrators being non-Native. In Canada, Aboriginal women between the ages of 25 and 44 are five times more likely than all other Canadian women in the same age group to die as a result of violence. Suddenly, the overt sexualization and victimization of Native American women in a pop video might not seem so trivial."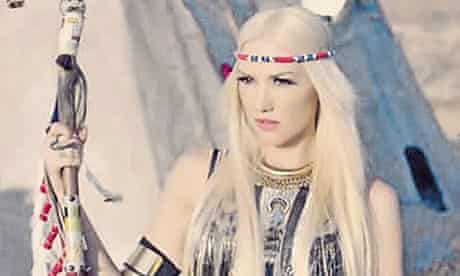 Gwen Stefani in a video for the song "Looking Hot." Photograph: screengrab
That was followed by a 2013
Guardian
article on the Idle No More movement in which she wrote, "According to the 2006 census, there are 1.17 million First Nations, Inuit and Métis people in Canada. A recent ruling affecting over 600,000 people gave Métis and non-status First Nations people equal recognition with First Nations status individuals. That means both increased accountability for the Canadian government and increased support for the INM movement. Idle No More was started in Saskatchewan by four women (Jessica Gordon, Sheelah McLean, Sylvia McAdams and Nina Wilsonfeld), who are lawyers, academics, and professionals. They were concerned about Bill C-45, the omnibus bill, which they saw as important for indigenous peoples and treaty rights, as well as for all Canadians concerning laws affecting the environment. They began "teach-ins" to inform and educate about these bills."
In 2013, Charleyboy parlayed her blog into 
Urban Native Magazine
, a lifestyle publication originally aimed towards Indigenous Canadians aged from 15-35. She was consequently named by the
Huffington Post
as one of three Aboriginal Millennials to watch. In 2014, Charleyboy co-wrote
Dreaming in Indian: Contemporary Native American Voices
with Mary Beth Leatherdale and she has written for CBC,
Indian Country Today
,
THIS Magazine
, and MSN Canada. She is simultaneously not averse to rising in the world of fashion. Having left British Columbia to study Fashion Communication at Ryerson University in Toronto, she was named one of 'Toronto's Top Bloggers' and one of 'Canada's Top Ten Fashion Bloggers'.
"I came to terms with what it meant to be an Indigenous woman in my twenties," she writes, in
#NotYourPrincess
, "around the same time as the trial of a male serial killer who targeted vulnerable Indigenous women dominated the news. I was shattered by the very presence of those headline, because I knew that with one simple twist of fate, I myself could've been listed as one of the victims.
"I had spent most of my life up to that point filled with self-loathing and a sense of aimlessness. I hadn't yet realized that the key to finding my direction was directly tied to my finding my place--and pride--as an Indigenous woman.
"Too often I've seen, we've all seen, those headlines that send shivers down spines, spin stereotypes to soaring heights, and ultimately shame Indigenous women. Yet when I look around me, I see so many bright, talented, ambitious Indigenous women and girls, full of light, laughter and love."
Urban Native Magazine
has continued as "a Native lifestyle magazine dedicated to providing the best in Fashion, Arts & Culture, Entertainment, Lifestyle, and Business content from all across Turtle Island/North America."
Room
magazine in Vancouver included an interview with her in 2014.
9781554519576

AN AUTOBIOGRAPHICAL SUMMARY, 2010

My name is Lisa Charleyboy and I'm Tsilhqot'in, from Tsi Del Del in British Columbia, where my father's family is from. My mother is Mexican and Dutch/Cherokee and hails from the United States.

My father was chief of our band, a residential school survivor and committed suicide when I was just four years old. My mother then moved my two older brothers and I to Abbotsford so that she could pursue post-secondary education and begin to support our family.

I was a latchkey kid for most of my childhood and I had to grow up fast. I lived in the suburbs and, every time I returned to my reserve, I didn't feel connected. I felt like an outsider and never fit in. Although I knew that I was native, I never felt any particular connection to my culture as I was presented with mostly negative stereotypes and had encountered racism simply for the colour of my skin.

By grade 10, I had already decided that I was moving to Toronto upon graduation to attend Ryerson University for fashion communication. I am thankful that, despite the numerous difficulties I faced during high school, I managed to stay on the university track and keep my grades up and be able to continue school. At the age of 17, I left the sleepy suburbs for the bright lights and the big city that is Toronto.

Unfortunately, my adolescence hadn't adequately prepared me for my fast-paced university life. I was left feeling very isolated and found it difficult to adjust, especially given that my upbringing was so different than the other students that I met. Although I loved Toronto and my program, I struggled through my three years of study. I faced serious depression and I had no family nearby or support system. Finally, a family tragedy occurred that brought me back to BC to face some of the difficulties that I had tried to leave behind.

Thankfully, I landed a job as a marketing assistant back in BC but I realized that my heart remained with fashion. I decided to pursue a career as a fashion editor but I soon realized I needed to earn a journalism degree before I could land my dream job.

My return to post-secondary education began once again as I switched majors to the professional writing program at York University in Toronto. That's when my life began to change course in a significant way, as a first-year tutorial leader helped guide me toward learning more about my Indigenous roots.

While at school, I started to reach out to the First Nations community in Toronto and get involved. It was the first time that I felt ready to embrace my culture as I realized how amazingly educated, and successful our people are. Somehow, I hadn't known about all the rich talents that were in the community and, as I had broadened my horizons, I saw the strength in Indigenous identity.

I began writing for SPIRIT magazine, which covered Aboriginal arts and culture, and I worked as a programming coordinator for imagine  NATIVE Film and Media Arts Festival, where I really began to connect with Indigenous artists. During this time, I took the opportunity to meet other native people, study native culture and history and participate in community events. I felt that I was regaining a part of myself back that I hadn't realized I had lost.

In 2009, I was selected to attend

Inclusion Works '09

in Vancouver, where I met First Nations post-secondary graduates from all over the country. I was amazed at the level of professionalism that was presented and I was taken aback by the great opportunities offered for First Nations post-secondary graduates. Once again, I was made aware of the huge talent that lies in our community.

I began working with the Aboriginal Human Resource Council (AHRC) for

Inclusion Works '10

and I was able to attend the event in April and co-ordinate a team of Inclusion Works alumni volunteers. During the event, I was approached by York University staff and told that there was an upcoming job opening for an Aboriginal recruitment officer that might be right for me.

After some careful thought and deliberation, I decided that it was a natural fit given my love for York University and my strong belief in post-secondary education for Aboriginal youth as a road toward success.

My academic journey finished last June when I graduated from York University with a B.A. honours in professional writing. I started my new position in July and I am excited to meet Aboriginal youth and talk with them about their post-secondary education options. I hope to convey to them how important it is to stay on track with their studies even though they may be going through a difficult time. In the end, it is always worth the effort and the struggle to complete school as there are so many opportunities for them once they graduate.

Events like

Inclusion Works

and organizations like AHRC are helping to change the landscape of opportunities for Aboriginal youth, one job at a time. I greatly look forward to continuing my involvement with the AHRC as we continue the movement toward mobilization and prosperity for all Indigenous people, through education and employment support initiatives. I am so thankful for AHRC role in supporting my pathway to career success.

Editorial Note: Lisa Charleyboy is also known across Canada's Indigenous community for her social media outreach through "Urban Native Girl" and her Urban Native Magazine, which delivers pop culture with an Indigenous twist.

ILMBC2

Author Tags: