Indigenous Métis Poetry
As Harold Cardinal noted in a revised introduction to
The Unjust Society
, "The issue of 'Indian' and 'Métis' identity continues to be a contentious issue in Canada, particularly with regard to changes that have occurred since 1969 in the federal laws governing Indian status and in the self-description employed by the Indian First Nations and the Métis. The Métis, having secured express constitutional changes, have yet to sort out many issues related to how their citizens are to be recognized by the governments of the country." Recognition for Métis within the Aboriginal movement at large can also prove problematic.
Born in 1955, as a descendant of the Red River freedom fighter Gabriel Dumont, Marilyn Dumont is a writer of Of Cree/Métis ancestry who has continued the struggle to assert the legitimacy of Métis identity. In her prose poem "Leather and Naughahyde," Dumont has evoked the frictions that can sometimes ensue between "Indians" and "Métis" on a private level.
"So, I'm having coffee with this treaty guy from up north and we're laughing at how crazy 'the mooniyaw' are in the city and the conversation comes around to where I'm from, as it does in underground languages, in the oblique way it does to find out someone's status without actually asking, and knowing this, I say 'I'm Métis' like it's an apology and he says, 'mmh,' like he forgives me, like he's got a big heart and mine's pumping diluted blood and his voice has sounded well-fed up till this point, but now it goes thin like he's across the room taking another look and when he returns he's got 'this look,' that says he's leather and I'm naughahyde."
Marilyn Dumont has taught Creative Writing at Simon Fraser University and Kwantlen College, and worked in video production. She received the Gerald Lampert Memorial Award for
A Really Good Brown Girl
(1997). That book has been printed more than ten times. Her second collection of poetry,
Green Girl Dreams Mountains
(2001), received the Stephan G. Stephansson Award for Poetry from the Writers Guild of Alberta in 2002. Her third collection, 
that tongued belonging
, won the 2007 McNally Robinson Aboriginal Poetry and Aboriginal Book of the Year. In 2007 she won two awards at the Aboriginal Book Awards: the Poetry Book of the Year and the McNally Robinson Aboriginal Book of the Year for her third book of poetry, published by Kegedonce Press.
Dumont has been writer-in-residence at the Edmonton Public Library, the University of Alberta, and Toronto's Massey College. She has been faculty at the Banff Centre and advised and mentored in the Aboriginal Emerging Writers' Program.
BOOKS:
The Pemmican Eaters (ECW Press, 2015) $18.95 ISBN: 978-1-77041-241-5
Initiations: A Selection of Young Native Writing (Theytus, 2007). Editor.
that tongued belonging (Kegedonce Press, 2006)
Green Girl Dreams Mountains (Oolichan, 2001)
A Really Good Brown Girl (Brick Books, 1997)
[BCBW 2020] ILMBC2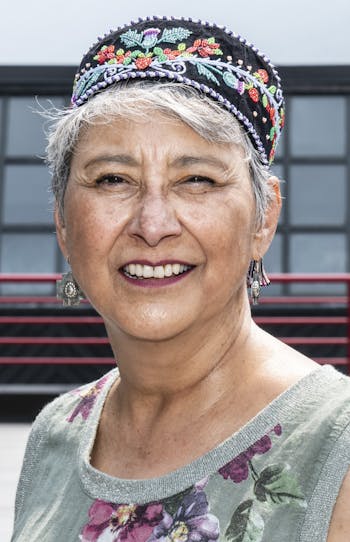 Articles:
1 Article for this author
---
that tongued belonging (Kegedonce Press $15)

Article

A former creative writing teacher at SFU and Kwantlen College, Marilyn Dumont, a descendant of the Red River freedom fighter Gabriel Dumont, continues to assert the legitimacy of her Cree/Métis ancestry. Dumont's third poetry title, that tongued belonging (Kegedonce Press $15), has won Poetry Book of the Year and the McNally Robinson Aboriginal Book of the Year Award at the most recent Aboriginal Book Awards. 0-9731396-9-2

[BCBW 2008]

Author Tags: