Indigenous Métis Poetry
Born in Maple Ridge, B.C., into a Métis family of Cree, Scottish, English and French descent, Gregory Scofield never knew his father--who later turned out to be Jewish. His maternal ancestry can be traced back to the fur trade and to the Métis community of Kinosota, Manitoba, established in 1828 by the Hudson's Bay Company. "My parents were married in Whonnock, B.C. (close to Maple Ridge), in 1964 under an alias name and spent the next two years in hiding, moving from province to province every couple of months," Scofield has recalled.
"Mom was surprised to find out that my father was already married and had a young daughter. In spite of this she stayed with him, and in 1965, while dodging the police in Port Alberni, B.C., she became pregnant with me. Not wanting to raise a baby on the run, she finally convinced him to turn himself over to the authorities. They returned to Maple Ridge where he turned himself in. Ironically, he ended up having a heart attack on the stand and beating most of the charges. I was born in July of 1966, the very day my father stood trial."
Scofield was separated from his mother at age five and sent to live with strangers. He grew up in northern Manitoba, northern Saskatchewan and the Yukon, struggling with substance abuse, poverty, racism and sexuality. A sense of loss, poverty, alienation and self-hatred led to a profound sense of loneliness that he traced, through his maternal ancestry, to the Red River settlement, as well as Kinesota, Manitoba in a memoir called
Thunder Through My Veins
(1998). Some of this material is revisited for his poetry collection
Singing Home the Bones
(2005).
Gregory Scofield's first collection of poetry,
The Gathering: Stones for the Medicine Wheel
(1994), provides insights into Canada's Métis and received the Dorothy Livesay Poetry Prize. Scofield later received the Air Canada Award in 1996 given annually to a promising Canadian writer under age 30.
In his book
I Knew Two Métis Women
(1999) he recalls his mother Dorothy Scofield and his aunt Georgina Houle Young. He is also the author of
Native Canadiana: Songs from the Urban Rez
(1996) and
Love Medicine and One Song
(1997).
Scofield has worked with street youth in Vancouver and been involved in the Louis Riel Métis Council. He returned to live in Maple Ridge in 2009 but has taken writing and teaching jobs throughout Canada since then. In Calgary he taught Identity Narratives at the Alberta College of Art & Design, having previously taught First Nations and Métis poetry at Brandon University in Manitoba. Scofield has also served as writer-in-residence at the University of Manitoba, University of Winnipeg and Memorial University.
In 2016, he received the Latner Writers' Trust Poetry Prize, a $25,000 award for a poet in mid-career in recognition of an outstanding body of work produced and in expectation of future contributions. The award was presented at the 2016 Writers' Trust Awards on November 2 at the Glenn Gould Studio in Toronto. "This award means a great deal to me not only as a poet," said Scofield, "but as an Indigenous writer in this country. I hope, too, this most humbling honour will serve as inspiration to young Indigenous poets whose stories and words are needed now more than ever."
In 2016, Scofield was Assistant Professor in English at Laurentian University, teaching Creative Writing, when he became increasingly involved in publicizing Canada's Missing and Murdered Indigenous Women (MMIW) on social media, a subject depicted in many of the poems in his collection
Witness, I Am
(Nightwood, 2016).
"This issue is personal for me," he said, "as I lost both my Aunty and cousin to racism and violence. When I first began looking to add my voice to social media, I decided I would use my Twitter account specifically for the issue of MMIW." Scofield began a daily tweet called Name A Day, which featured the photograph and name of an Indigenous woman who has gone missing.
"I also use the account to honour the lives of our sisters who've been stolen through homicide," he says. "There are two purposes behind the tweets; one is to create awareness (as a public call-out) about women and girls who are missing. The other purpose is to create a space to honour the lives of women and girls lost to violence. I use my writing to advocate for a meaningful change to improve their lives and the right to be safe."
Gregory Scofield is the subject of a documentary film,
Singing Home the Bones: A Poet Becomes Himself
(The Maystreet Group, 2007).
BOOKS:
The Gathering: Stones for the Medicine Wheel (Polestar, 1994)
Native Canadiana: Songs from the Urban Rez (Polestar, 1996)
Love Medicine and One Song (Polestar 1997; Kegedonce Press, 2009)
Thunder Through My Veins (HarperFlamingo, 1998)
I Knew Two Métis Women (Polestar 1999; Nightwood, 2010 along with a CD)
Singing Home the Bones (Polestar, 2005)
Kipocihkân: Poems New & Selected (Nightwood, 2009)
Louis: The Heretic Poems (Nightwood, 2011)
Witness, I am (Nightwood, 2016) $18.95 978-0-88971-323-9
[BCBW 2020]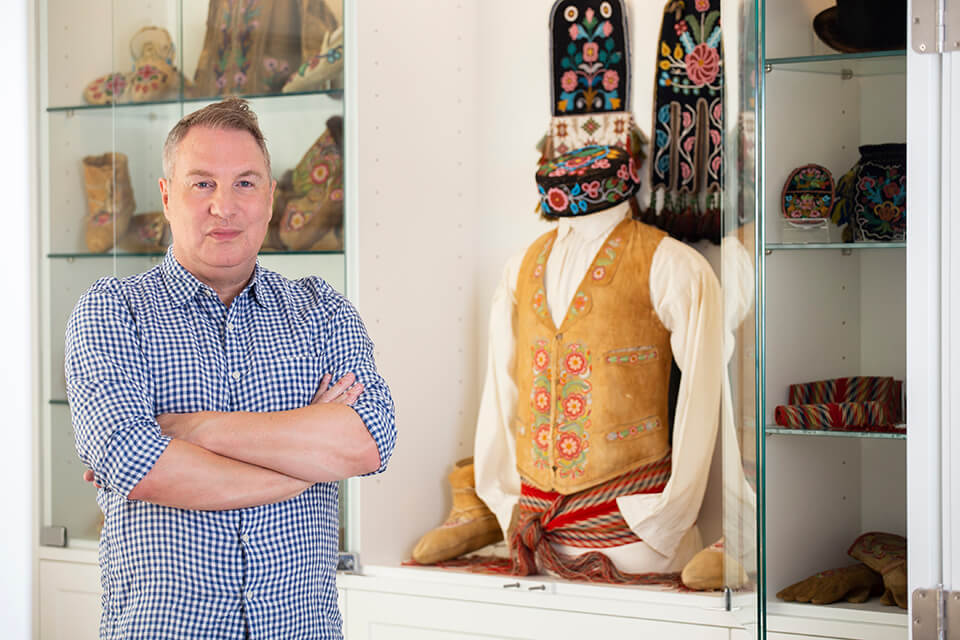 UVIC: Beadwork as a form of resistance

Author Tags: